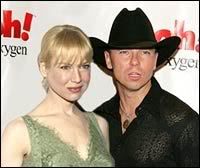 Renee Zellweger has spoken out about her brief marriage to country singer Kenny Chesney, at last.
And she's told us what we think we might have known already…
"I made the biggest mistake of my personal life," she admitted to Now magazine.
"I felt a fool. I wanted to run away and hide. I was going through an intensely private situation. I didn't want to share it with the world."
She revealed it has taken her a long time to recover from the marriage, which she had annulled after just 128 days of marital bliss. Or not.
Talking about the reasons for the speedy union, she said: "I was going through huge life changes at the time. I wanted to stop and be a girl for a while.
"My marriage came during this time and it was desperately important to me. I don't want anyone to think I didn't take it seriously."
But it just wasn't all she was hoping it would be: "There was no alternative but to let it go. I don't believe in hanging on to relationships if they aren't working. And this wasn't going to work."
Well..y'all know my take on this relationship. Click Here to find out.
Related Posts: