And the birthday celebrations continue..or do they? Cutie couple, Nick Lachey and Vanessa Minillo extended their November 9th birthdays into several days of parties and social gatherings. The two really seemed to be enjoying themselves, until Saturday night at Tao. Sources say that Vanessa and her girlfriends had dinner at Tao Bistrol early in the night (Nick was no where to be seen), and then headed up to Tao nightclub. Nick finally showed up around 1:30 am and for whatever reason he was in a foul mood. His bad attitude rubbed off onto Vanessa who was reportedly, 'not having as much fun as she was with her girlfriends' prior to his arrival.
Ironically, Nick was in a great mood before he met up with Vanessa.
Check out who he was hanging out with after the cut:
 Nick celebrated his b-day with none other than the PussyCat Dolls.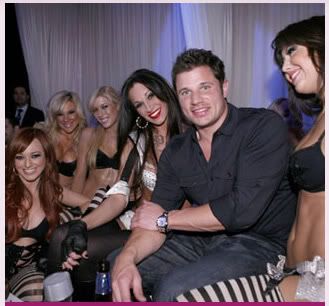 Related Posts: