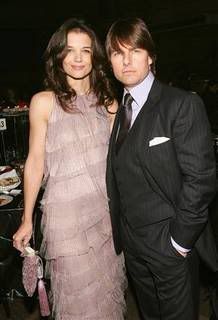 We all know what happens when a woman wins an Oscar..the less successful husband will soon turn to drinking or other women to assuage his ego and the marriage is over in a matter of months or a couple years. (Think Hilary & Chad and Reese & Ryan).
Katie Holmes, has taken notice of the 'Oscar Curse', and apparently wants to be Mrs. Tom Cruise forever, even if it means taking herself out of Oscar contention.
Page Six is reporting that Fox Searchlight Pictures wanted to include, Katie's name for an Oscar nod for the movie, "Thank You for Smoking", but Holmes  "respectfully declined" the offer. This is also the movie which Katie Holmes appears nude. Definitely NOT the movie, Tom Cruise wants his new wife to be remembered for. 
Related Posts: