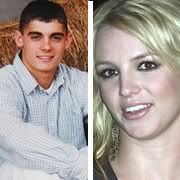 Britney's first husband (they were married for 55 hours), Jason Alexander, has spoken out about Brit's divorce announcement…and it seems like the Louisiana native still has a soft spot for his former flame, admitting he 'still loved her.'
Alexander told EXTRA, that he 'didn't hate the guy (K-Fed)..he just made an idiot of himself. (True..Double True!) He also goes on to say that although he's not sure if Kevin married Brit for the money..he sure didn't have a hard time spending it.
Jason Alexander finished up the interview by reaching out to Brit, "Give me a call. I'm a good guy to talk to … and I'm here for you." .  
P.S. Although Jason Alexander comes off as a good guy in this interview..he DID hook up with Shar Jackson (K-Fed's Ex girlfriend) out of spite.
Related Posts: