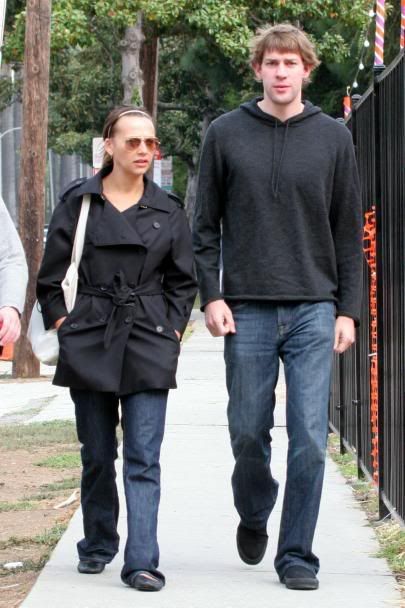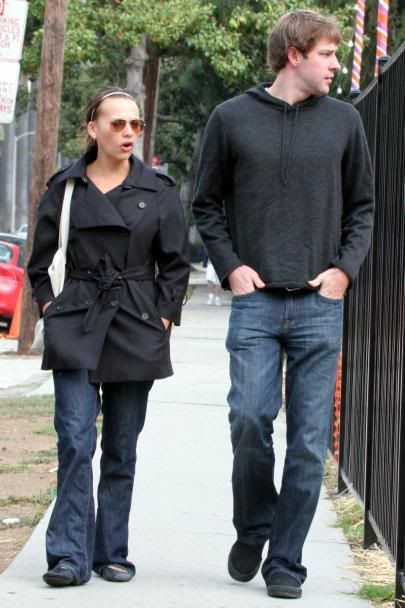 I am a huge 'The Office' fan. Big. Huge. Ginormous fan. I want to put Steve Carrell in my pocket, make out with John Krasinski and be best friends with Jenna Fischer. Is that too much to ask?
Anyway..if you are fan..then you gotta read the press release which just came out..EXCITING!
Full Press Release after the cut:
P.S. John Krasinski and Rashida Jones..totally dating in real life. Word is he got herthe role on the show.
NBC'S 'THE OFFICE' WEB EVENT STREAMS ONLY ON NBC.COM
"Producer's Cut" To Be Web-Exclusive Event On NBC.com On November 9th
BURBANK, Calif. November 6, 2006 NBC's Emmy-winning comedy "The Office" (Thursdays, 8:30 9:00pm ET/PT) will offer fans a first-ever, web-exclusive "producer's cut" on November 9th. The episode will include additional scenes and extra footage not shown in the broadcast version. Viewers can log onto NBC.com at 9:00pm (PT) on November 9th to see the web-exclusive event.
The announcement was made today by Vivi Zigler, executive vice president NBC digital entertainment and new media.
"This is a first-of-its-kind and a real bonus for fans of 'The Office,'" said Zigler. "It's also a natural for this show which has continually pushed the envelope in the digital landscape. We're seeing an incredible audience reaction to the evolving digital extensions of our programming and anticipate this being one of their favorites."
In the pivotal November 9th episode, Jan (Melora Hardin) tells Michael (Steve Carell) that the Scranton Branch will be shutting down and Michael strives to keep his staff's spirits up. Meanwhile, everyone privately begins to envision how their lives will change in the aftermath. Rainn Wilson, Jenna Fischer, John Krasinski, B.J. Novak, David Denman, Leslie David Baker, Brian Baumgartner, Kate Flannery, Angela Kinsey, Phyllis Smith, Paul Lieberstein and Mindy Kaling also star, and Ed Helms ("The Daily Show"), Rashida Jones ("Wanted") and Charles Esten ("Whose Line Is It Anyway?") guest-star.
Through October 29, "The Office" has averaged a 4.0 rating, 10 share in adults 18-49 and 8.5 million viewers overall, making it this Fall's #3 half-hour comedy on any network in adults 18-49. "The Office" is also primetime's most upscale comedy, with the highest concentration of homes with $100,000-plus incomes and highest median income for its18-49 audience among network comedies. "The Office" has improved the Thursday 8:30pm half-hour for NBC by 14 percent versus the network's 18-49 average at this point last season. "The Office" has matched or improved upon its adult 18-49 lead-in from "My Name is Earl" with every first-run telecast this Fall.
"The Office" takes a painfully funny look at the interactions of the desk jockeys at Dunder Mifflin paper-supply company in Scranton, Pennsylvania. Golden Globe winner Steve Carell ("The 40-Year-Old Virgin") stars as unctuous regional manager Michael Scott who hosts the documentary crew on a tour of the workplace. Jenna Fischer ("Miss Match"), John Krasinski ("Jarhead," "Kinsey"), Rainn Wilson ("Six Feet Under"), and B.J. Novak ("Punk'd") star as the employees who tolerate Michael's inappropriate behavior only because he signs their paychecks. Also starring are Melora Hardin as Jan Levinson, David Denman as Roy, Leslie David Baker as Stanley Hudson, Brian Baumgartner as Kevin Malone, Kate Flannery as Meredith Palmer, Angela Kinsey as Angela Martin, Oscar Nunez as Oscar Martinez and Phyllis Smith as Phyllis Lapin. "The Office" is executive-produced by Ben Silverman, Greg Daniels, who developed the series for American television, Ricky Gervais, Stephen Merchant and Howard Klein.
Related Posts: