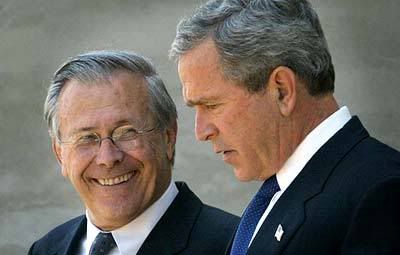 Britney & K-Fed: Dunzo and now Rumsfeld resigns…Has Hell Frozen Over?
Read about Rumsfeld's resignation after the cut:
WASHINGTON – After years of defending his secretary of defense, President Bush on Wednesday announced Donald H. Rumfeld's resignation within hours of the Democrats' triumph in congressional elections. Bush reached back to his father's administration to tap a former CIA director to run the Pentagon.
P.S. Note the misspelling of Rumsfeld's name in the article….haha!
Related Posts: