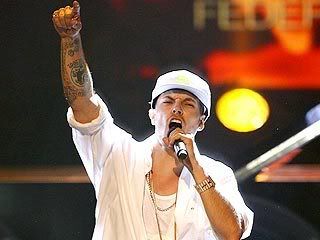 Ugh! I admit..I was starting to feel bad for America's Most Hated Kevin Federline today. I was sure the kid was going to go on suicide watch with his marriage, career and self-esteem down the drain. Unfortunately, I was wrong. The brazen FED-EX (as he's been deemed by the blogosphere) continued to 'popozao' the crowd at a Chicago venue tonight. And not only did he rap like his life depended on it (which it does) he also took a little time to hit on some ladies.
Check it! People.com reports that K-Fed yelled to the crowd. "Hey, I see a lot of fine ladies in here, you know I'm a free man, right, ladies? You wanna dance with a pimp?" Later on he added, "That's a sexy-ass lady right there," pointing into the crowd.
Ewww…I just threw up in my mouth..
Related Posts: