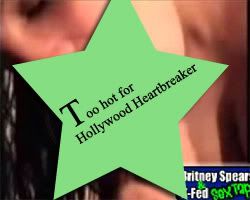 Earlier this week a Los Angeles judge dismissed a $10 million lawsuit Britney Spears filed against Us Weekly, ruling that the singer cannot be defamed by published rumors that she and her husband, Kevin Federline, had made a sex tape and were worried about its release.
Brit & K-Fed feared the release of a secret sex tape would harm their reputation. (Unfortunately, a sex tape can't do any more damage to their reputations..right?) Spears gave a copy of the tape to lawyers and claimed that she and Kevin were "acting goofy the whole time".
SEE FOR YOURSELF: The video is on FLESHBOT (It is most definitely NSFW! = Not Suitable for Work) and word is Kevin leaked the video to get back at Britney.
Related Posts: