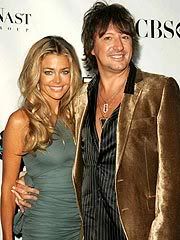 Richie Sambora…You give love a bad name..bad name..

Bon Jovi guitarist Richie Sambora admitted yesterday that he hopes his seven month relationship with Denise Richards is the 'real deal'. He also said he wants more children. (Sambora currently has one 8 year old daughter, Ava, with estranged wife, Heather Locklear) When asked if that meant he would have children with Denise he replied, "You never know".
I'd say those are pretty high hopes for two people who are still currently married to OTHER people.

Related Posts: