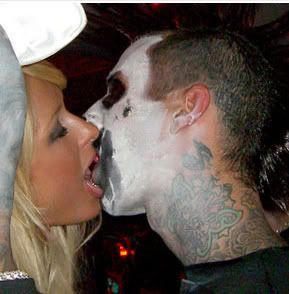 Travis Barker is not too happy about the Divorce Party that his soon-to-be ex-wife, Shanna Moakler is throwing tomorrow night in Vegas. In fact Barker said, it 'made him want to puke'. Which is ironic considering we all want to puke at the thought of him and Paris Hilton making out..but whatevs!Here's his MySpace Blog:
SOMEBODY SENT A MESSAGE AND A FLYER WAS ATTATCHED (I POSTED IT BELOW). SHANNA IS HAVING A DIVORCE PARTY FOR HERSELF IN CELEBRATION OF OUR FAILED MARRIAGE APPARENTLY….. THIS IS THE SAME WIFE THAT EMAILED ME TO TELL ME SHE WOULD BE SLEEPING WITH HER NEW BOYFRIEND IN MY BED THE DAY OF OUR ANNIVERSARY 2 DAYS AGO SO THIS DOESN'T COME AS A SHOCK. AND THE SAME PERSON WHO IS MAKING "I LOVE SHANNA" SHIRTS FOR PEOPLE TO BUY, IN SUPPORT OF ALL THIS AND PLAYING THE VICTIM, IT SADDENS ME PEOPLE AND EVEN BRINGS ON THE URGE TO PUKE, HOPE IT DOES YOU AS WELL. IM GONNA SAY A LONG PRAYER FOR HER, SHE NEEDS IT. THERE ISN'T A PART OF SHANNA AND I AND THE FACT OUR MARRIAGE FAILED THAT I COULD BE CELEBRATING OR HAPPY ABOUT EVEN AFTER ALL OF THIS TIME IT WAS OUR FAMILY…IT WAS ALL WE HAD……I MEAN A PARTY??? WHAT DOESN'T KILL ME MAKES ME STRONGER:) GOODNIGHT AND MAY THE FORCE BE WITH U….STAR WARS IS ON AND THIS IS NOW IN THE PAST. HOPE SHANNA'S PARTY IS EVERYTHING SHE COULD HOPE 4.
Team Travis or Team Shanna? Whose team are you on? 
Photo:SplashNews
Related Posts: