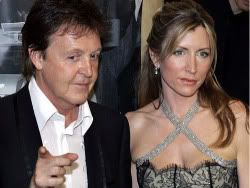 It's no secret that Heather Mills stands to gain a ton of money from her divorce to Sir Paul McCartney. The couple did not sign a prenuptial agreement prior to tying the knot. Which, as we all know, was the stupidest mistake ever, means Heather is entitled to 1/2 of McCartney's fortune. Estimates of the settlement are somewhere around 300 million dollars.
But what fun would it be for the rest of us, if Heather was the only one to benefit from this split?
BetED.com is an online gambling site which is offering odds on the McCartney/Mills divorce settlement amount. According to Gambling911.com, the most popular bets are:
The most likely amount Mills will make, according to the odds at betED.com, is 51 to 100 million Pounds (+150). Other odds available are: 0-50 million Pounds (+250); 101-150 million Pounds (+250); 151-200 million Pounds (+350); 201-250 million Pounds (+750); 251-300 million Pounds (+1500); 301-350 million Pounds (+2250); 351-400 million Pounds (+3000); 401 million Pounds or more (+1500).
Betting on the settlement amount is fun..but how about betting on whether she married him for his money or not..now that would be reallllly interesting!
Related Posts: