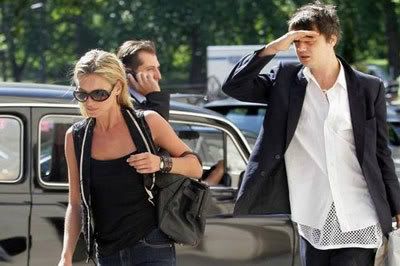 The ring is off..but, unfortunately, the engagement is still on! Pete Doherty was rushed to the hospital yesterday after the engagement ring he bought Kate Moss became stuck on his dirty, bloated finger. According to the Daily Mirror, Doherty's finger was so swollen the ring had to be cut off of his finger. He was seen leaving the hospital with a bandaged finger. Which he mistakenly took for a huge blunt and proceeded to smoke it. Which then led him back into the hospital for 3rd degree burns to his finger.
What does she see in him again?
While Kate Moss and Pete Doherty have problems, have a great relationship.
Related Posts: