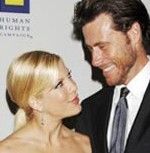 It's amazing that Donna Martin graduated..because Tori Spelling isn't very smart.
According to the Ireland On-Line Tori Spelling and hubby, Dean McDermott are set to star in a reality TV show. The show, which will follow the newlyweds in a quest to buy and renovate a bed-and-breakfast while expecting the birth of their first child, will air in six half-hour episodes on the Oxygen network starting next spring. According to the show's producer, Spelling and McDermott "may be actors, but they're also very entrepreneurial. They wanted to create a real business." The show's finale is expected to coincide with the birth of the couple's baby in March.
Ithink Nick & Jessica, Carmen & Dave, Shanna & Travis might have a little advice for the couple.
Related Posts: