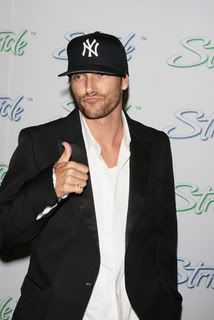 With a new album out today, it seems that the downward spiral of Kevin Federline's career has begun. "Mr. Britney Spears" sat down for an interview with USA Today about his life and loves. Here are some of the highlights:
* Admits that it was 'less than ideal' timing when he left Shar Jackson (She was 7 mos. pregnant) for Britney
* He thinks show business is 'no place for children' and is willing to move his family to a farm in middle america to protect them from it.
* Britney spoils the kids..Kevin's the enforcer
* He wants to write a book about his life..so we can see who he was before he met Britney
* Wants to go to Africa to see lions and tigers and ish..oh and to help people
Read the full article after the cut:
He rarely refers to "Britney."
But when it comes to "my wife," aspiring rapper Kevin Federline, who wooed, married and twice impregnated pop princess Britney Spears, has no hesitation talking candidly and openly.
But he's more circumspect when talking about his newborn.
Their second child was born Sept. 12, and Spears and Federline still haven't officially confirmed the baby's sex or name.
For weeks, media reports referred to the baby as a boy named Sutton Pierce. But last week, a birth certificate surfaced indicating the boy was named Jayden James.
Federline, 28, isn't saying for sure ("my wife will announce it when she is ready"), and he's quite adept at not dropping any hints. While he swears he and Spears, 24, did not purposely leak a wrong name to dupe the press, he does admit they are tickled by the mix-up. "We sit back and laugh about it," he says. "It just goes to show how many people write about our lives and don't know anything about it."
But while promoting his debut solo album, Playing With Fire, he is willing to share details about their lives.
On over-indulging their two children, Sean Preston, 1, and their new child: "I don't think it's going to be as hard for me as it will be for my wife. She spoils them; I'm the enforcer."
He believes show business is no place for kids, "even though my wife did it, and it turned out OK for her. Actually, it turned out a lot better than OK. And if that means I take my family out of L.A. to grow up on a farm, then that's what I've got to do."
Facing the press hasn't been the teeth-pulling aggravation he had expected. "I think people are starting to look past the past," he says optimistically.
The hard-partying nights in Las Vegas have given way to professional focus, he says.
Federline hopes to shake the "Mr. Britney Spears" tag with his collection of angry hip-hop raps that is aimed mostly at paparazzi and is due in stores today. A U.S. concert tour starts next month in New York.
But critics have been harsh on Federline's musical endeavors.
He defends his widely panned performance at August's Teen Choice Awards: "It was my first performance ever … it's gotten a lot better."
His raps on Fire are his "way of speaking out," because defending himself against an image as a dancer who latched onto a pop music cash cow is "pointless. People twist my words around a million times."
"I'm normal," Federline says. "I've had ups and downs. I know what it's like to be dirt-poor, and I know what it's like to be filthy rich. I've seen both sides, and it's been a crazy road getting here."
Along the way, Federline became a father of four by two women. He says he always had planned on becoming a father in his 20s. "I'm not going to say that I planned on falling in love with my wife when my ex-girlfriend was pregnant, but I knew for sure that I'd have one or two children by now. I didn't think I'd have four children, but I love being a young dad with a big family."
The two Spears/Federline tots get along great, he says. "Preston is starting to take on the big brother role, and he's getting very protective." Preston "wants to be around the baby all the time." Federline's two children with actress Shar Jackson (Kori, 4, and Kaleb, 2) are regular visitors to their home, says Federline. "Preston gets real excited when Kori and Kaleb come over." But it's clear that the "little one" is the apple of Federline's eye. That baby "picks up things a lot quicker than the others, because he has the benefit of learning from the older kids."
His two-year marriage is solid, the singer says, with both husband and wife focused on family and career. "She's recording three or four times a week, and she still manages to be with the kids a lot."
Spears will decide when the couple's 7-week-old will make a public appearance. Federline says he wants to release a photo soon so his family can join him on the road without dodging the paparazzi. "But if my wife wants to have that baby all to herself for now, then she keeps it, because there's not much she has to herself," he says, "not even her own children."
Related Posts: