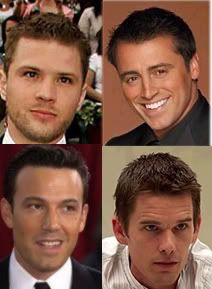 Just hours after the announcement of Ryan Phillippe & Reese Witherspoon's separation, rumors about an alleged affair between Ryan and a Canadian waitress have emerged into Cyberspace. Lainey Gossip.com reports:
Also a restaurant employee, at a restaurant chain in Vancouver well known for extremely attractive servers, one in particular *allegedly* carried on an affair with the newly single sunkissed blonde with the sunkissed children and the very sunkissed popular soon-to-be ex wife for the duration of his last shoot in town."
Damn those Candadian women* and their frost bitten noses and furry boots!
If you remember correctly, Canadian women also were responsible for the break up of the following relationships: Uma Thurman & Ethan Hawke, Matthew LeBlanc & Melissa, Jennifer Lopez & Ben Affleck.
* CeCe Heartbreaker has nothing against Canadian women…in fact she happens to be part Canadian herself..eh!
Related Posts: