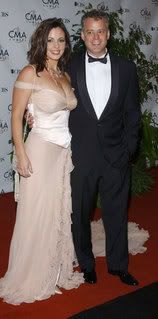 Country singer Sara Evans, 35, and her husband, Craig Schelske, 43, have agreed to stop talking about cheating and porn and start getting real.
According to TMZ, the former Dancing with Stars contestant and her soon-to-be ex-husband met in a Nashville courtroom today and agreed to not discuss allegations of cheating, pornography or substance abuse with the press.
Evans and Schelske have also agreed to not physically or verbally abuse each other and to submit to pyschological exams.
The singer has been awarded primary custody of their three children, Avery, 7, Olivia, 3, and Audrey, 2. Schelske will have visitation rights, but he has been asked to find a new place to live.
When asked if he still loved his wife, Schelske replied, "Yes, I do." When Evans was asked the same question she had no comment.
Related Posts: