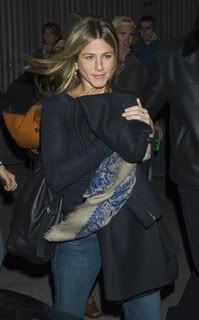 Revenge Tip #1: Give away former spouses remaining clothing & belongings to charity.
Stop what you're doing! Head to the closest Goodwill or Salvation Army and start scouring! Word on the street is that Jennifer Aniston gave what was left in Brad Pitt's closet to a second hand store in Burbank. Imagine…Brad Pitt's smelly sneakers, dirty underwear, and stained tee-shirts for .99 a piece.
If she'd have been smart..she would've Ebay-ed that ish..and made a killing!
 Read the full article after the cut…
British tabloid The Sun reported: "JENNIFER ANISTON got revenge on ex-hubby BRAD PITT by giving his old clothes to charity. She was spotted dumping bags of Brad's rags at a second-hand store in Burbank, California.A source said: "When a woman in the shop realised that it was Jennifer Aniston, she went over to see what she'd left."But it was too late because a worker who didn't recognise Jen had already dumped the clothes in a bin mixed with lots of others."Last year Jen held a ceremony on the beach by her Malibu home where she set fire to her wedding dress — officially marking the demise of her marriage."
Related Posts: