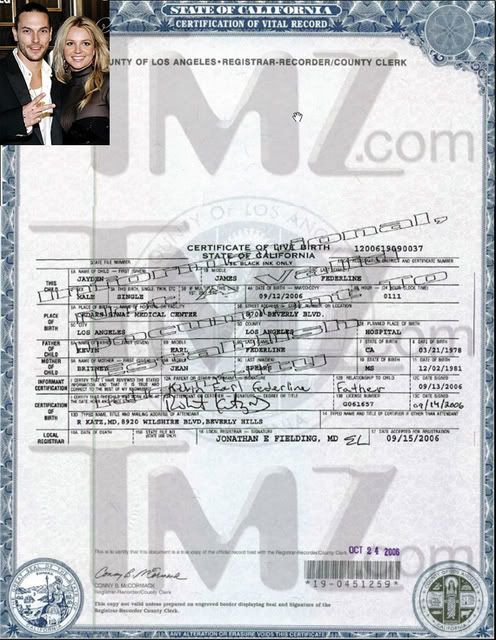 I hate to break it to ya…but Kevin Federline & Britney Spears totally PUNK'd us! It turns out their second baby's name is NOT Sutton Pierce Federline as previously reported. It's Jayden James Federline…JJ Federline? Dyno-Mite! (<---You have to be old to get that joke!). TMZ uncovered the truth of the child's name when they acquired the actual birth certificate. The name Sutton Pierce Federline started out as an internet urban myth and apparently, Kevin and Britney thought it would be funny to go along with it. However, I don't think it's funny!!! Now...what am I going to do with 10 burp clothes embroidered with Sutton Pierce Federline? I'm totally NOT buying her anymore presents! Read the full article after the cut....
TMZ has obtained a copy of the birth certificate for the latest addition to the Spears/Federline family, and now it's official — it's a boy!
The certificate, filed today at the L.A. County Registrar-Recorder's office, reveals that the boy's name is Jayden James Federline. The certificate is signed by K-Fed himself, although a close inspection reveals that the signature is more like printing. Daddy Fed inked his name on September 13, one day after Jayden was born.
There was considerable confusion surrounding the birth of Britney's second child. Originally the baby's name was reported as Sutton Pierce Federline. Recent reports also indicated the baby was a girl.
So baby Sean Preston has a lil' bro. No, we're not talking about Kevin.
Photo: Faded Youth 
Related Posts: