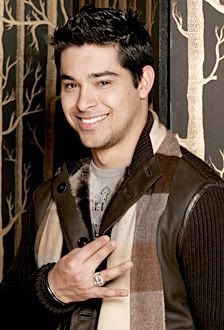 We all know that Wilmer Valderamma is absolutely irresistible..but I thought his admirers were more of the teeny-bopper, I wanna be cool so I'm dating an older man, pop queen type. Apparently I was wrong..Check out who he was seen partying it up with in the Hamptons after the cut:
Could Wilmer Valderrama's unlikely charms be at work on yet another unsuspecting young Hollywood starlet? And just whose hand is it that's draped slinkily around Wilmer's neck?
More on the hand in a minute. The former sitcom star was seen cavorting in the Hamptons with none other than 21-year-old Scarlett Johansson at his side. TMZ spies spotted the pair on Monday night early on at Stereo House, and then later at celeb-boite Star Room, where Wilmer was hosting the 10th anniversary of a partycalled, somewhat dubiously, "Back Door Bambi."
Though TMZ's eyes and ears didn't notice any canoodling between Valderrama and Johansson, the pair did seem to stay very close to one another most of the evening, and were noticeably camera- and query-shy. Nonetheless, the ex-Fez, who's had well-publicized (and fondly-remembered) dalliances with Lindsay Lohan, Mandy Moore, and others, appears to have a diverse array of beauties within his reach: a natural blonde (Scarlett), a darker brunette, and another brunette, whose presence Scarlett doesn't seem to sanction enthusiastically.
As for the hand, we hate to disappoint, but it doesn't take an orthopedic surgeon to see that it can't be matched to Scarlett, unless she's developed very long (and apparently rubber) limbs.
Related Posts: